Books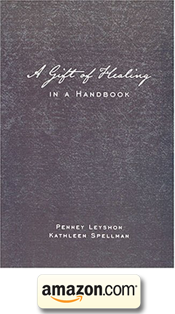 A Gift of Healing in a Handbook
In A Gift of Healing in a Handbook, Penney addresses Spirituality, as it is connected through the human being, is presented in a fresh, comprehensive and practical style. Visit amazon.com to purchase a copy of this revolutionary book.
Penney Leyshon is also author of Perissma, a children's novel series.
A testimonial from a reader of Perissma:
"Is this the promised spiritual twenty-first century? Where is all the progress we're supposed to have made, and the learning we're supposed to have accumulated? Where is all the culture and arts mankind has created? Where is our wisdom?

"We still have Perissma, and her creator, Penney Leyshon. After reading a few lines about the adventures of Perissma on Alaamintre, you will be transported to a real twenty-first-century planetspace where the star is a young lady who helps us remember the best of the Earth that she knows well, even though she lives to the right side of the Milky Way."
G.L.
International broadcaster; former United Nations Television director

Regarding a reading of two of the Perissma stories on January 13, 2006 to a group of twelve inner-city, at-risk children ages eight through ten in Norwalk, Connecticut:
"It was magical! I have never seen a group so rapt and spellbound when listening to a story, especially since it was the end of the week when kids are normally tired. It was particularly impressive because they were being read to from a manuscript without illustrations. It was great! Many, many thanks!"
S.C.
Headquarters Coordinator,
Norwalk Reads! A community collaborative, partnered with Reading is Fundamental - RIF.

In development are two novels:
I've Lost Something, Something's Missing
The story focuses on seven people, and explores the many ways (seen and unseen) they interact on different levels in the courses of their lives.
What if you found out in an instant that every assumption you based your life on was false?
The novel's main character examines this question and more in a highly unusual set of circumstances.